Financial Planning Services
It is illegal to give investment advice in Australia unless you are licenced to do so by the Australian Securities and Investment Commission. Brian Davis at Tweed Heads is a licensed financial adviser through MCA Financial Planners Pty Ltd to provide BDS clients with financial planning advice. MCA does not have any ownership connections with life offices, banks or fund managers. This allows Brian to offer completely financial advice and recommendations that are objective and not influenced by fund manager commissions.

A FREE initial consultation with Brian who is located in Tweed Heads will allow clients to assess whether they are comfortable with the service offered, the cost involved and ultimately whether the next step is to be undertaken. If it is decided to take the next step Brian will arrange an interview where the client's goals and tolerance to risk are sought.
Financial Advice is available but not limited to
Retirement planning including allocated and guaranteed Lifetime Pensions
Tax effective superannuation for businesses
Protection of income, your family, your assets and your lifestyle
Estate planning
Partnership and key man protection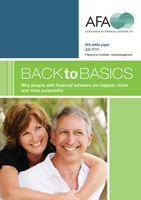 "Why people with financial advisers are happier, richer and more purposeful"
Click here to read the full article.
[Source AFA Website]
2011 Financial Planning Checklist
Are you aware of the level death benefits included in your current superannuation?
Have you made provision for that benefit on your death to be passed tax free your chosen beneficiary/ies . See the real life example below.*
Could your family manage your current lifestyle if you couldn't work through sickness or injury?

Do you know what benefits the government offers?

If you already have income protection insurance are you certain that you will be paid the monthly amount insured?

What  are the problems that more than often arise in the event of a claim?
*Case Study
Aged 28, a Male, living at home with parents, no dependents, had $44,000 cash in superannuation was killed in a motor vehicle accident. The insurance payout from the fund the parents received approx $220,000. Tax payable $58,000! Over a quarter of the death payout went in income tax.
We ensure that your money goes to your loved ones – not to the tax man!
**Sobering Statistics
Some sobering Australian statistics for you to think about:
20,000 men will be diagnosed with prostate cancer in 2010
36 women are diagnosed with breast cancer every day
1 new case of cancer diagnosed every 5 minutes in 2010
1 in 5 women have cardiovascular disease
20% of all strokes occur in people under 55
If you would like a health check for your business contact us today!